Who else is enjoying snuggling up on their couches and judging much (much) better cooks attempt to take out the MasterChef Australia title this season? We're weeks deep now and we can see our users are getting involved in some great novelty MasterChef bets.
Here's some MasterChef betting inspo and five of our favourite MasterChef bets so far:
Who Will Be Named MasterChef 2022

This one is classic. Our users love to bet on the MasterChef winner! Bets on our app range from outright winner predictions (Julie Goodwin will be the winner of MasterChef 2022) to specific group or gender winners (e.g. the winner will be female, or a fave will win this season).
Whether you back a single contestant all the way through, or (like us) you're indecisively swapping from week to week, Buddybet's here for you. Make as many different bets as you like, or go die-hard loyal and duplicate your bet over-and-over with different people.
Who Will Be Eliminated

Another favourite thing our users love to bet on is which contestants will be eliminated next! Sad but true – we do love a good elimination. After all, how often do you get to watch a bunch of people stake their livelihoods on the turnout of a burnt banana parfait ice cream sundae?
There are two eliminations per week, and users can bet not only on who will be eliminated, but who will be in the bottom three, what they'll cook in the elimination round, and if you're feeling lowkey cut throat – who will shed a tear when they leave.
Who Will Have a Cook From Hell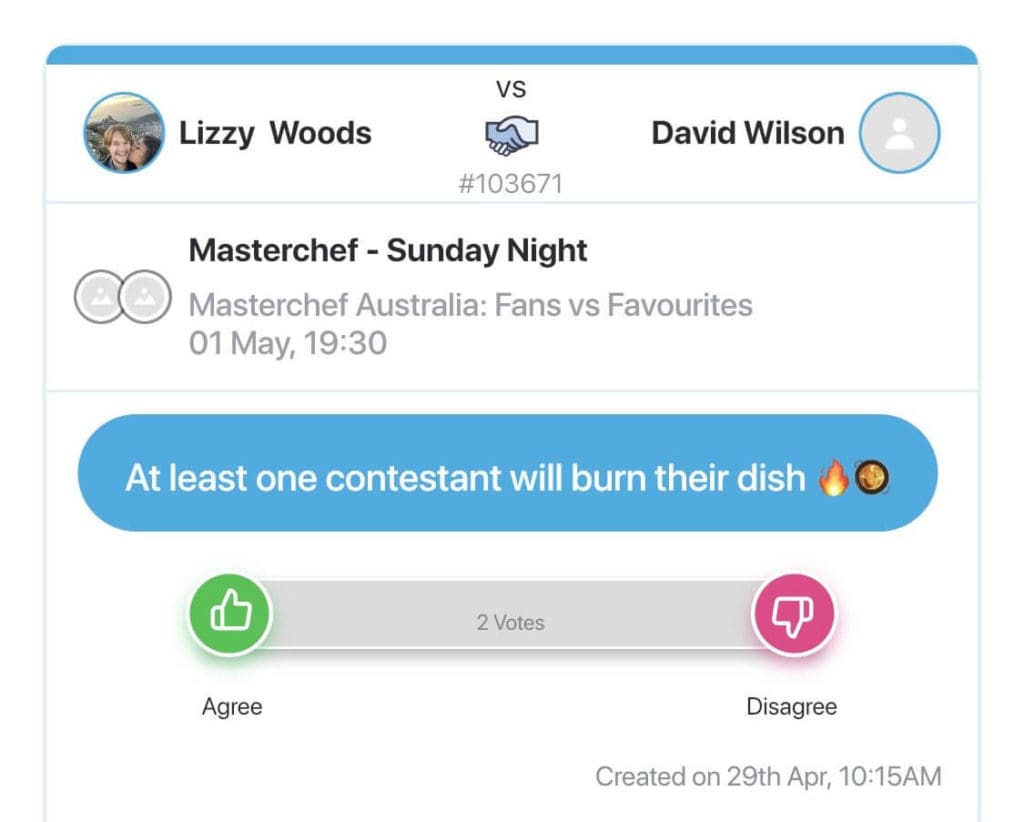 Anyone that took any cooking classes during their high school days knows all too well the difference between a good and bad day in the kitchen. One day you've made a 10/10 bunt cake, and the next you've set the teacher's sleeves on fire (it was an accident Mr. Toovey).
Think someone's going to fall to pieces in a cook? Challenge a friend on Buddybet.
What Dishes the Contestants will Cook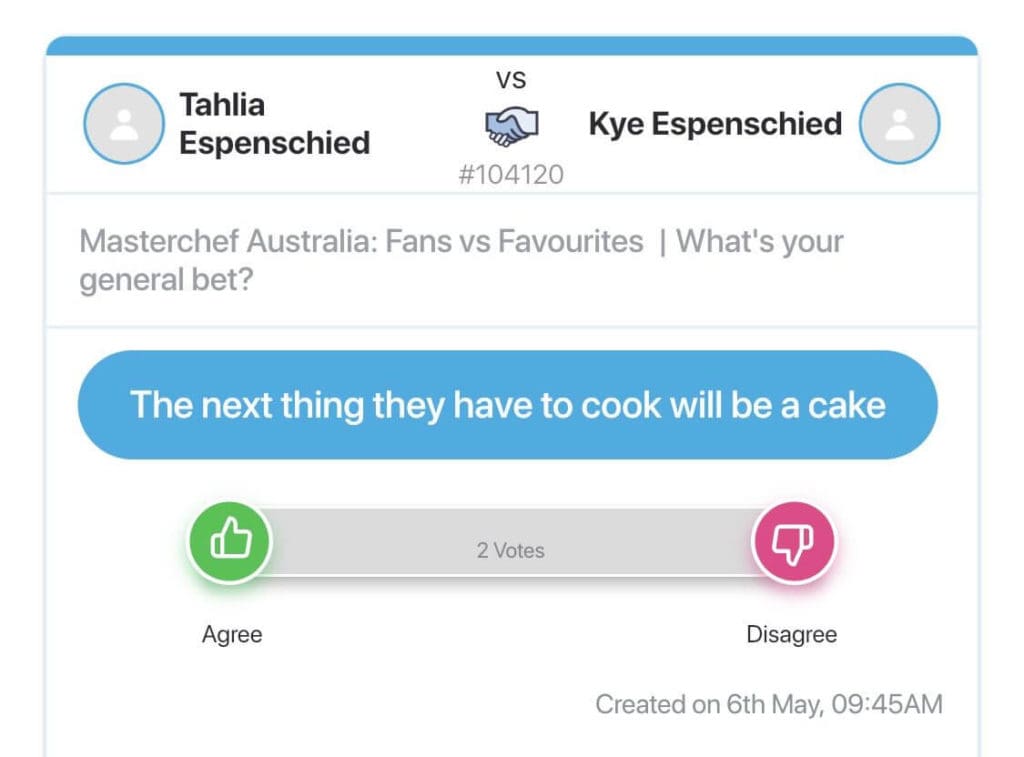 Another thing our users love betting on is of course, the FOOD! What will the contestants cook each week? What ingredients will be in the mystery box? Who will make a guest appearance? At the end of the day, we're all there for the food. Here are some more great bets we've seen on the app so far:
There will be lemons in the next mystery box
Harry will cook another vegetarian dish
Clare Smyth will make an appearance on Masterchef 2022
The contestants will have to recreate one of Adriano Zumbo's dessert
Julie Goodwin will make her famous pork belly
What are You Waiting For?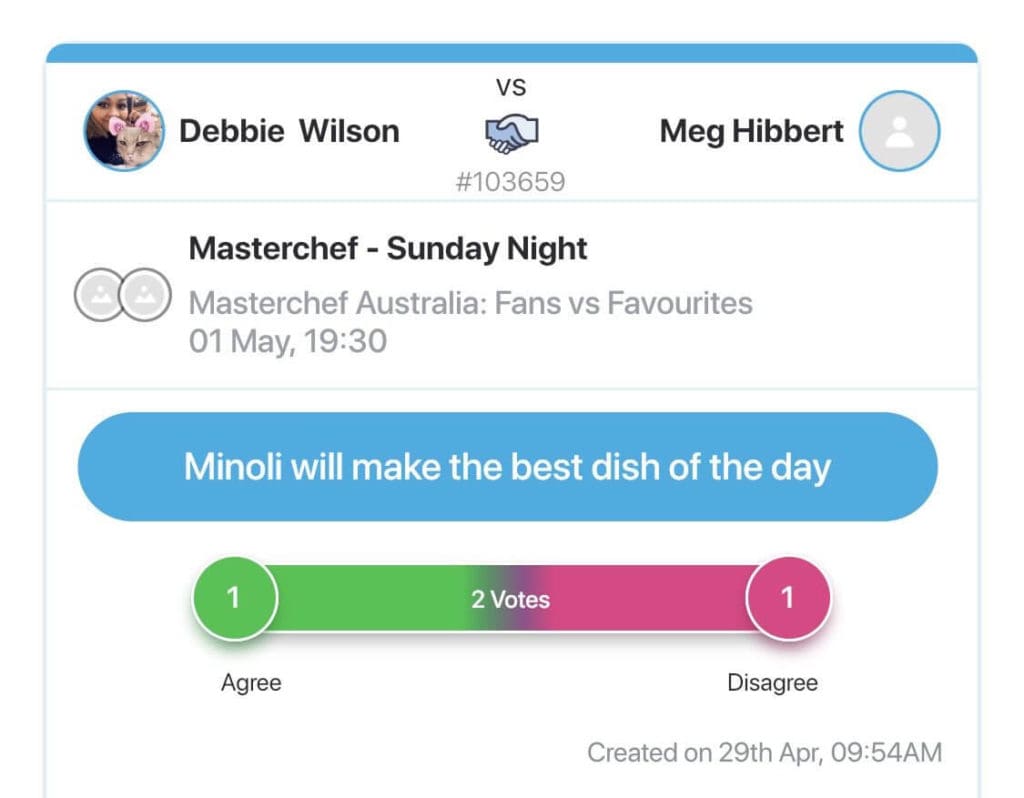 With the ability to freeform bet – you can make almost any MasterChef bets you want with Buddybet.
There's nothing like a handshake bet with your bingeing buddy to ramp up the stakes and make your watching experience as competitive as the actual show. So, get behind your faves, vote for the contestants that need to go, bet on challenges, eliminations and pretty much anything with Buddybet!