Here at Buddybet we love a bit of sports betting with our mates! But we're not like traditional sportsbooks.
What makes us different? We're glad you asked.
These are the three major points that set us apart from the rest of the pack:
With us you're betting directly against your mates, not a bookmaker!
You can make pretty much any bet you want
You don't have to bet with cash
Buddybet allows you to put your own fun twist on traditional footy betting. Gone are the days of boring, standardised bookie bets!
Let's look at some of our favourite AFL bets on the app so far:
Customising the Stakes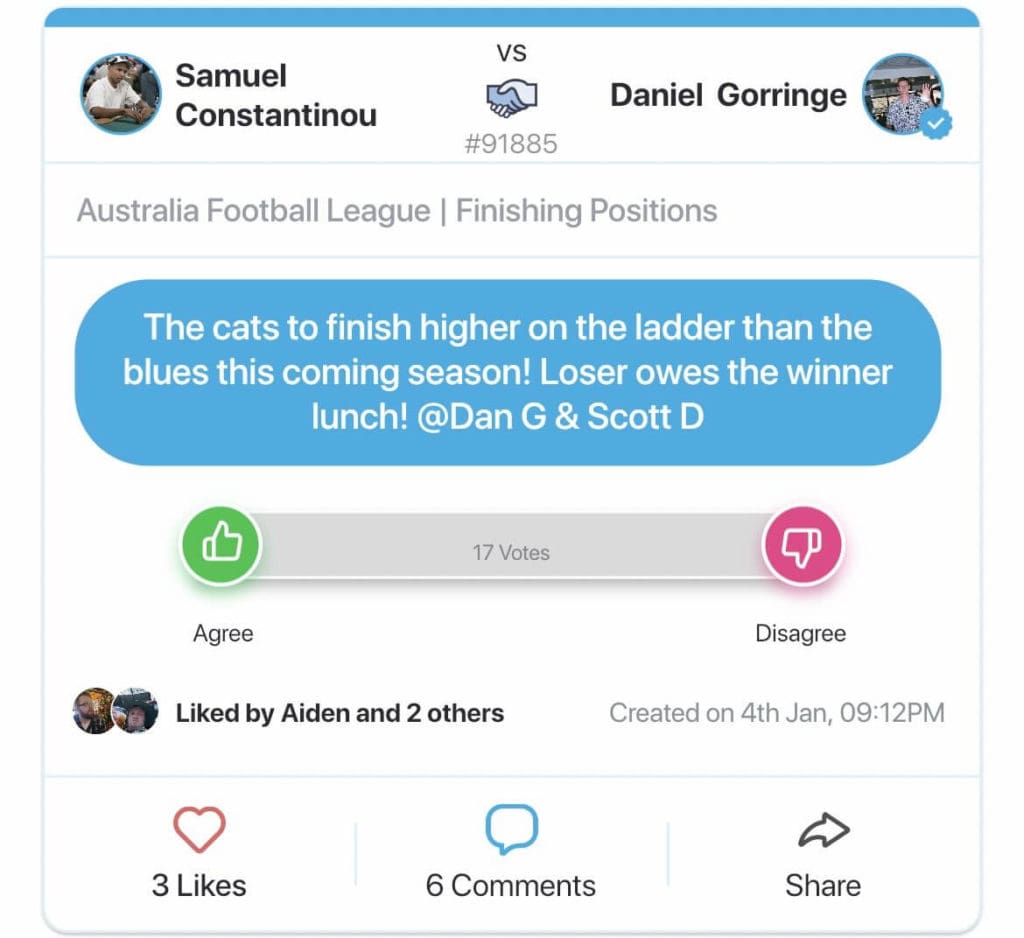 No cash? No worries! There's plenty of things you can stake without exchanging any of your hard-earned dough. Buddybet is the only social betting app that allows you to create a non-monetary stake of your own.  You could propose that the loser does the dishes, buys the next round, gives you a massage  – or just play for bragging rights!
This bet is the perfect example of that. This user has challenged their buddies to a fun bet where the loser buys lunch for the winner. We wish these guys luck, and hope the winner enjoys their Banh Mi (because what else would you be having for lunch?). 😉
Off-Field Antics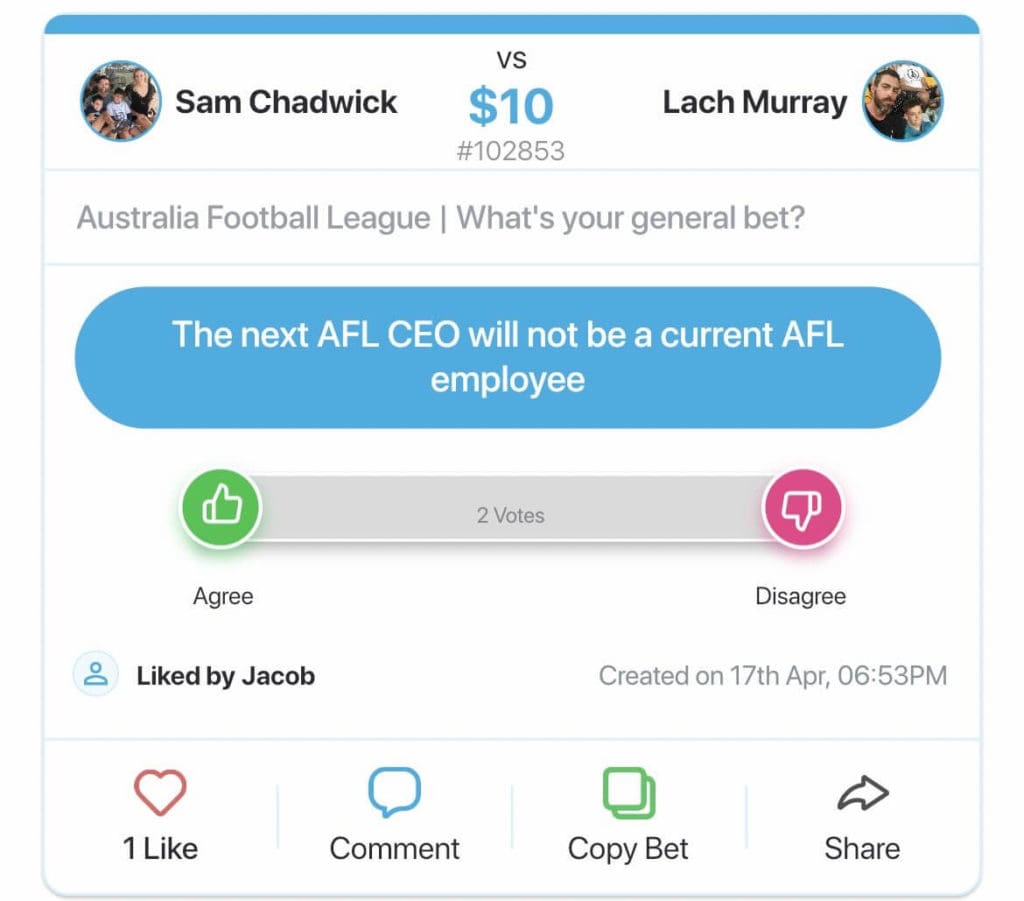 Let this bet serve as a reminder that not all AFL bets have to relate directly to the games! If there's one thing Essendon Football Club has taught us, it's that the off-field drama can be just as thrilling as any match.
Buddies can bet on any topic surrounding the AFL season including new CEOs, awards nights or what players' wives are eating for lunch. This bet predicts that the next AFL CEO will not be a current AFL employee. Do you have a prediction for who you think will be the next CEO?
Getting Personal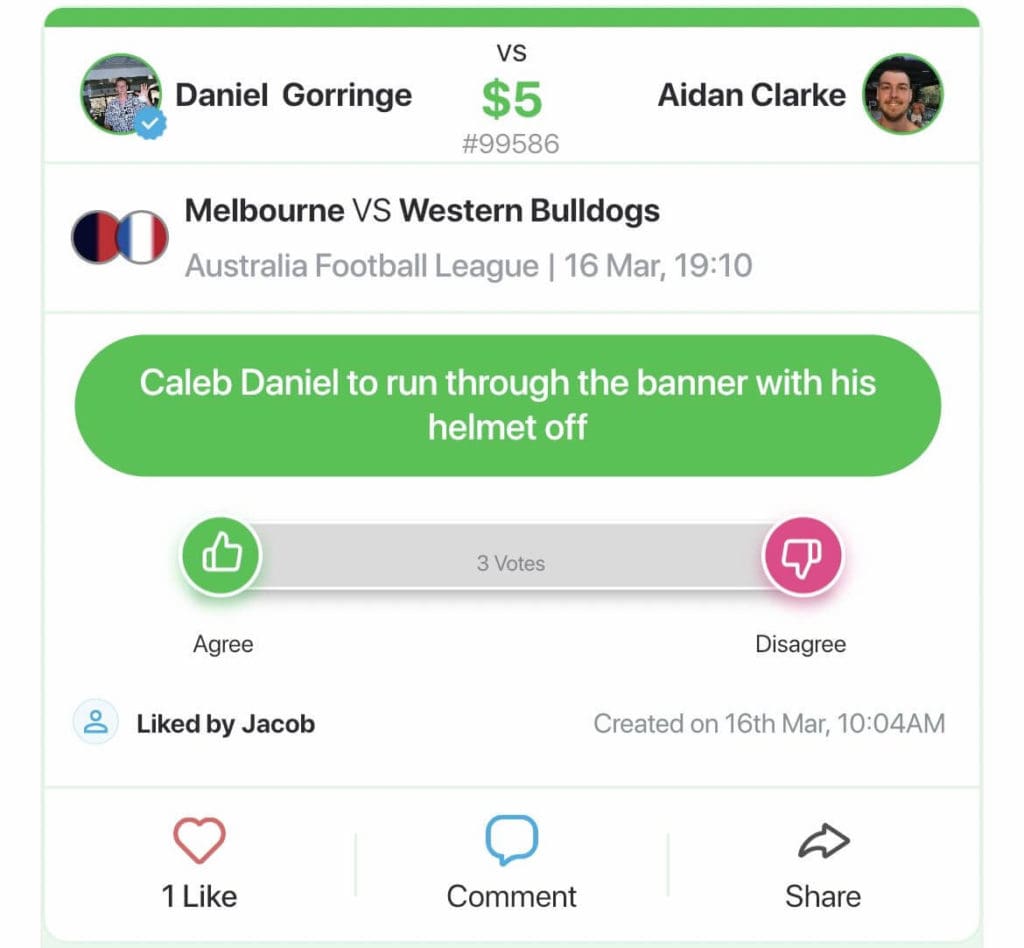 Another bet from Daniel Gorringe! A little birdy told us he knows his AFL pretty well (hmmm we wonder why?).
This bet is a perfect example of the novelty side of AFL betting that we offer. If you have a favourite player you can get personal (super personal) on everything they'll be up to during the season.
You can bet on what coloured shoes your favourite players will be wearing or if Mason Cox will lose his goggles mid-game. Heck, you could even bet what your favourite player will eat for breakfast; although, that would probably require some stalking which we don't condone.
These are just a few examples of the endless betting possibilities Buddybet provides users. Head to Buddybet now to get your AFL betting fix and much, much more.
If you'd like to see how to read more about us head to our guide to social betting.